Tina Turner isn't really recognized for being a songwriter but, if it was her style, she could easily brag about writing one of the most epic Rock'N'Roll song in music history putting her hometown of Nutbush on the map. Recorded at Bolic Sound and released in June 1973 the song would be one of the last success of Ike & Tina. Since then, it has been covered by memorable rockers, inspired a dance routine in Australia, and the lil old town in Tennessee that never left the setlist of Tina's concerts still attracts today fans from around the globe.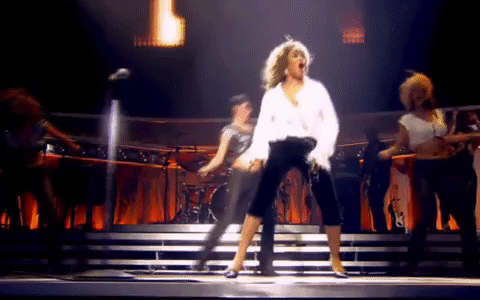 Back in 1980,  Australian Rock band AC/DC was looking for new leading singer, Brian Johnson auditioned for the band in London playing 'Whole Lotta Rosie' and 'Nutbush City Limits'. If comparison with Mick Jagger are legions, looking at live performances of Brian Johnson, the way he moves and sings, you can't help thinking about notable influences from Tina once again but once again, they were never really mentioned. Anyway they hired him as their lead singer and history was made!
American Rock legend Bob Seger also made Nutbush his own and performed the song for many years during his live shows. On May 30th 1976 , Bob Seger's covered version of "Nutbush City Limits" entered Billboard's Hot Top 100 chart at position #84; the following week it would be at #73, then on its 3rd and 4th week on the chart at moved to #69, that would be its peak position on the Top 100 and its 4th week on the chart was its last.
Australia, birth country of Tina's longtime manager and friend Roger Davies has always been very good and faithful to the Queen of Rock. From tours during the 'Pre -Private Dancer Era' to massive concerts and promo for the National Rugby League, the Aussies have always showed tremendous excitement for Tina. And they still do today through what is known there as the 'Nutbush Dance'! The dance is inspired by Tina's famous dance steps and is a dance categorized as a line dance. The steps are fairly simple, such that one who does not know them can generally pick them up by watching other dancers. A key in the song and dance being a popular combination is that the song has a moderately long introduction before the strong dance beat starts, which allows people who are sitting down to get up and to the dance floor and for all dancers to assemble themselves in a grid!
Remember that time when G20 police officers in Brisbane, Australia accepted 'The Nutbush' dance challenge and bust out some impressive moves in unison with Tina's classic blaring in the background?
Two years ago, on November 29th 2015,  in Horsham City, Australia,  254 people set a new World Record for 'Nutbush Dance',  dancing for over 5 minutes and 15 seconds , the youngest dancer was six, the oldest ninety years of age!
Every last weekend of September, Tina Turner Heritage Days are held in Nutbush at the Delta Heritage Center where the TINA Museum stands proudly. Wouldn't it be great to see the ultimate 'Nutbush Dance' happening there?! That would sure look amazing to see coming in the future and until then the last words are for Tina ('as usual') with this news upload from 1996 of the Queen energizing performance of Nutbush City Limits in Frankfurt, Germany including an entertaining, must see, sing along with (some longtime) fans! Enjoy!