Twenty years ago, on March 25, 1997, Tina Turner's charismatic pianist and backing vocal Kenny Moore passed away while on tour in Australia. An incredible musician and fantastic showman, Kenny was a key member of Tina's band from her early solo career in McDonald's conventions and hotels to the biggest stadiums in the world. His flamboyance and charisma made him the best audience entertainer when Tina was offstage changing outfit. His additions to Tina's songs and concerts are memorable and all part of the show. The chemistry between them was unique and you can't sing a live Tina song without doing the 'Kenny Parts'. I had the chance to meet a couple of people who knew him and from everything you can read about him, he was a genuinely nice, caring and loving person, living for his art.
Born in 1952 in Boston, Kenneth M. Moore was raised on gospel musc, joining a family group called 'The Moore Singers'. Classical trained on piano, Moore got his first break in 1973 when he performed behind Duke Ellington on a television programme, and then as a vocalist behind the Rev James Cleveland. Finding work as a session played, he backed Aretha Franklin, Billy Preston, Carly Simon, Elton John and Ray Charles. As a solo artist he released an album on his own label in 1987 'Have you got a moment?.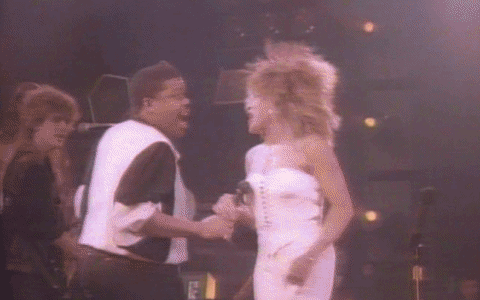 Kenny joined Tina Turner's band in 1977 and performed on several of her albums. He passed away in 1997 in Sydney, Australia during Tina's Wildest Dreams World Tour. Chuck Booker replaced Moore for the remaining dates of the tour. Tina Turner dedicated every performances of the tour thereafter to Moore.
Kenny performing Georgia On My Mind live at the North Sea Jazz Festival in the Netherlands back in 1992 .